Commercial Kitchen Fire Suppression
Fire Extinguisher Service Center provides total system expertise to help maintain your commercial kitchen vent hoods and fire suppression systems. Our in-house experts bring together all the elements you need for fully integrated hood ventilation and fire protection systems in your Nevada or Northern California commercial kitchen.
Simply put, we do it all – from start to finish. We are your single source for all your fire protection needs – from installation to inspection and beyond. That is why top names in food service and hospitality depend on us. If you need service for your kitchen fire suppression system in Nevada or Northern California, click or call today!
If you run a restaurant or commercial kitchen in Nevada or Northern California, contact our fire protection company to schedule a kitchen fire suppression system inspection today and ensure your restaurant will always be protected during a fire emergency.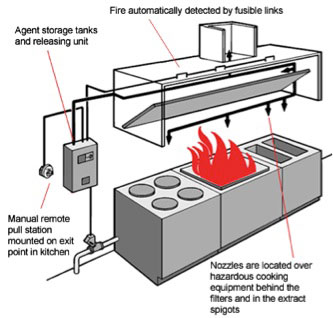 Our Kitchen Fire Suppression Services Include:
Installation of a complete pre-engineered and engineered commercial kitchen fire suppression system
UL-300 Upgrades
Detailed Consultation
Engineering Services
Design and CAD Drawings
Plans, Permits and Approvals
On-Site Coordination and Installation
Test and Final Inspection
Semi-Annual Inspections and Ongoing Maintenance
AHJ Consultation and Requirements
NFPA 17A
Wet Chemical Extinguishing Systems
Requirement for certified installation, operation, testing and maintenance of commercial range hood fire suppression systems.
Requires UL 300 standard commercial range hood fire suppression system installations.
NFPA 96
Ventilation Control & Fire Protection of Commercial Cooking Operations
Requirements for kitchen exhaust hood, grease duct and commercial exhaust fan installations.
Requires electrical control interlocks to cooking equipment exhaust and make up air fans and building fire alarm systems.
IFC 2012
International Fire Codes
International Code Council regulations on Fire Safety
Fire Safety Requirements for new and existing buildings.
Have Questions? We Have Answers!